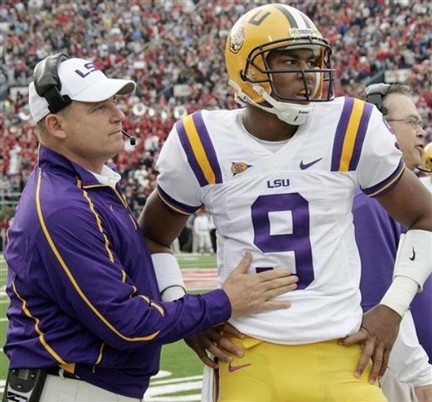 LSU starting quarterback Jordan Jefferson andsecond string linebacker Josh Johns turned themselves in to the East Baton Rouge Parish authorities on August 26 after police got arrest warrants charging them with felony second-degree battery for fight outside Shady's bar near the LSU campus.
The players, as is customary, broke their 10:30 p.m. curfew on the last day of training camp.
"Other arrests could be made in this case that are just as serious as the two already made," attorney Michael Bienvenu said. "This isn't over."
Read more @ ESPN
Jefferson's quarterback thinks the QB may be unjustly maligned.
"It is more than unjust to destroy this young man's career if it's all about a bunch of nothing, which is what I think," defense attorney Lewis Unglesby said Monday, according to media reports.
" I have no criticism, nor knowledge base, to say what Les Miles is doing is wrong, but I want to make sure he is fully informed that there's a whole other side to this, and that Jordan is not only presumed innocent, but I'm saying that he is," Unglesby said, according to the Associated Press.
Read more @ AP
The good news: Jefferson may be able to come back in 2012, if he desires, and if ... if ... this all blows over in his favor.
Jefferson could also be redshirted and maybe, just maybe, return to LSU as a fifth-year senior for the 2012 season, according to The Shreveport Times. The plan was to redshirt Jefferson in his true freshman season in 2008, but he had to play as a true freshman in 2008 after quarterback Andrew Hatch was injured and starter Jarrett Lee continued to falter.
Read more @ the Times
"Yeah, I've not crossed that bridge just yet," Miles said. "But that's a very, very interesting piece."