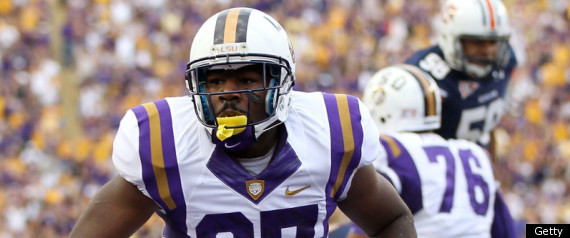 Rueben Randle caught two bombs and Auburn looked like it was hit by them.
No. 2 LSU rolled Saturday in a 45-10 trampling of the Auburn Tigers in Baton Rouge.
Jordan Jefferson and Jarrett Lee, both had superb games and displayed their long balls as the Tigers rolled to their eighth-straight victory by double digits.
"It just seems like no matter who goes down or who's out, we have guys who are ready to step in … and not just to fill a spot but to go in and dominate," said LSU center T-Bob Hebert.
"I almost feel like everybody else makes a bigger deal about it than we do," Hebert said of the periodic lineup upheaval, and the public scrutiny of the misbehavior that has caused it.
"It's not distracting to us. This team is so good about staying focused, one-track mind, not letting anything on the outside get to them because we don't want to have any regrets."
Somehow, some way Alabama has overtaken the Tigers for the No. 1 spot in college football. Nothing a little head to head comp can't settle.
NOW, WHAT SAY YOU, BAMA???