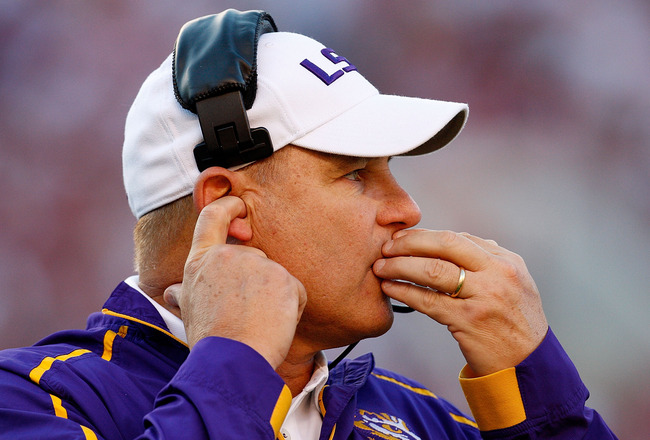 Les Miles got outcoached by former LSU defensive coordinator Will Muschamp in a listless 14-6 loss to the rejuvenated Florida Gators in the Swamp on the first Saturday of October.
Tigers quarterback Zach Mettenberger has teased LSU fans with great throws and seasoned poise, but the cat's out of the bag -- dude can't get it done. Let me rephrase that, he needs ALOT of help to get it done, and Odell Beckham Jr. had the worse game of his career with at least two drops and a terrible fumble in the third quarter.
The game was won in the trenches as the Gators took advantage of an apparently fragile LSU linebacking corps and when two starters went down the Gators started chomping with misdirection plays, all runs. In fact, after teeing off on Gators quarterback Driskell, the LSU defense seemed dumbfounded at Florida's second half adjustments.
Miles had that befuddled look on the his, the same one hehd in the BCS title game against Bama. LSU's defense did what it was supposed to do, even handing Mettenberger and the offense a first and goal to close the first half. LSU's coaches didn't know what to do with it, though. Bottom line, Miles was outcoached.